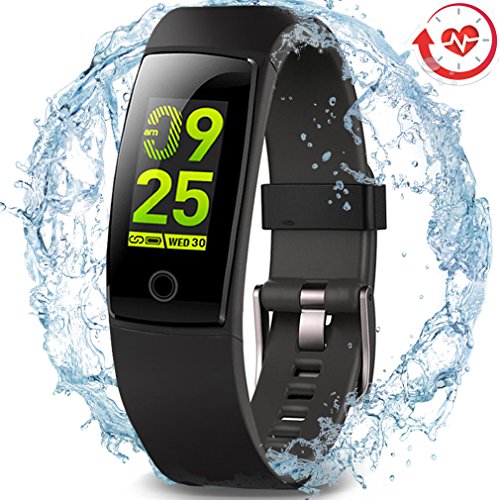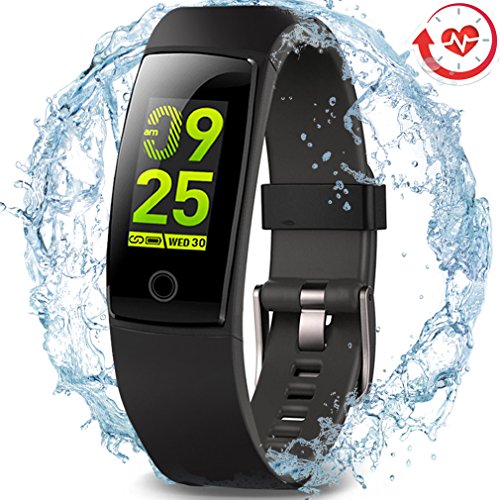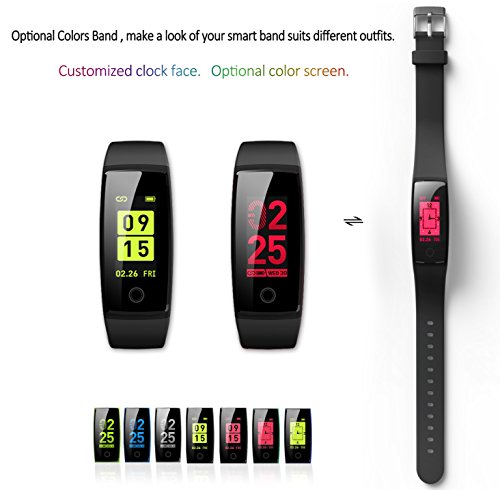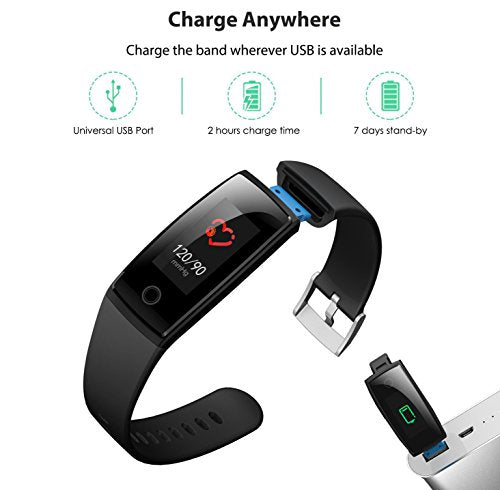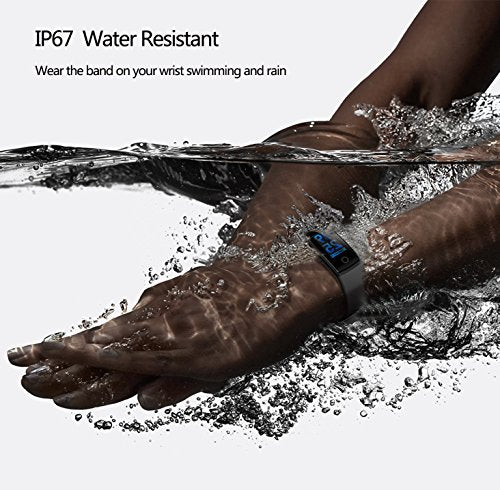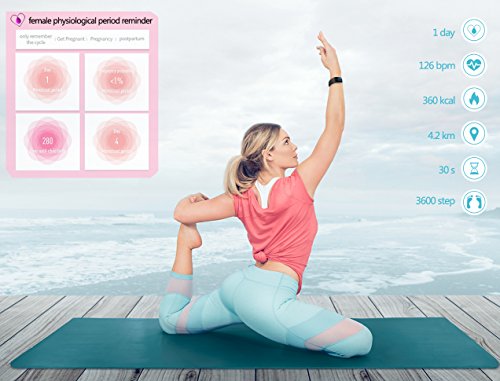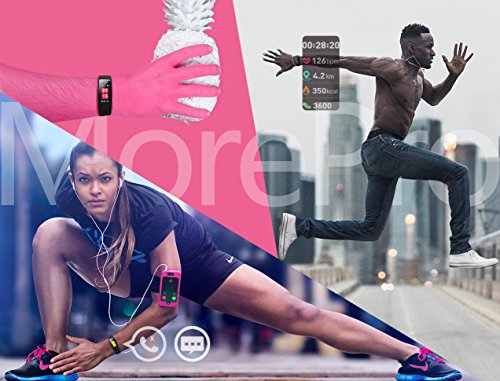 MorePro
Waterproof Health Tracker,MorePro Fitness Tracker Color Screen Sport Smart Watch,Activity Tracker with Heart Rate Blood Pressure Calories Pedometer Sleep Monitor Call/SMS Remind for Smartphones Gift.
Brand: MorePro
Color: Black
Features:
Color Screen:0.96-inch Color Screen  Using 0.96-inch IPS color technology, analternative to the TFT color screen. High definition, bright colored display.Update the previous black and white,wake-up gesture setting. Let the bracelet be no longer monotonous,health and fashion coexist.
DYNAMIC HEART RATE and AUTO SLEEP MONITOR :MorePro fitness tracker monitors dynamic heart rate , uploading the real time data of heartbeats to phone app . Also support automatic sleep monitoring , it records deep , light , awake time and whole sleep time . All health data showas a chart , clearly acknowledge your physical fitness status at whole day .
Main Functions:Female physiological period reminder, count-down, Step count,24hour continuous blood pressure monitoring, 24 hour continuous heart rate monitoring, Stopwatch, Reminder, Running mode, Multi-display mode, Fatigue test, Calorie, mileage, Call reminder, Refuse call, Wechat movement,Notification, Sleep Monitoring, Photograph, Waterproof, Phone tracking, Heartrate warning, Sedentary Reminder.
Built-in USB Plug:Built-in USB plug makes it easy to charge with any USB block and computer; no charging cable and dock needed; one single charge gives you up to 7 days of working time ( Note: battery lasts 5-7 days by heavy loading ; Battery lasts 7-10 days by light loading )
COMPATIBILITY:The app supports most smart phones with Bluetooth 4.0. Support system: iOS 7.1 or above (iPhone 4S, iPhone 5/5S/5C, iPhone 6/6Splus, iPhone 7/7S plus,iPhone8 iPhoneX etc.), Android 4.4 or above (Huawei Mate7/P9, LG, Samsung, etc ). If for any reason you are not satisfied, please donot hesitate to contact us or Amazon customer service.
Publisher: MorePro
Release Date: 2018-07-02
Warranty: No warranty
Details: Color Screen:0.96-inch IPS color technology, an alternative to the TFT color screen. Updated high definition, bright colored display. Let the bracelet be no longer monotonous, health and fashion coexist
Dynamic Heart Rate and Auto Sleep Monitor: MorePro fitness tracker monitors dynamic heart rate, uploading the real time data of heartbeats to phone app. Also support automatic sleep monitoring, it records deep sleep, light sleep, and awake states. All health data show as a chart, clearly acknowledge your physical fitness status at whole day
Multiple Functions: Female physiological period reminder, count-down, step count, 24 hour continuous blood pressure and heart rate monitoring, stopwatch, reminder, Running mode, customizable clock face, fatigue test, calories counter, mileage, call reminder, SMS/SNS alert, sleep monitoring, remote shutter, find phone, sedentary reminder
No charger needed: Built-in USB plug makes it easy to charge with any USB block and computer; no charging cable and dock needed; One single charge gives you up to 7 days of working time (Note: battery lasts 5-7 days by heavy loading ; Battery lasts 7-10 days by light loading)
Compatibility: APP "H Band" requires smart phones with Bluetooth 4.0. Support system: iOS 7.1 or above (iPhone 4S, iPhone 5/5S/5C, iPhone 6/6Splus, iPhone 7/7S plus,iPhone8 iPhoneX etc.). Android 4.4 or above (Huawei Mate7/P9, LG, Samsung, etc ). If for any reason you are not satisfied, please do not hesitate to contact us or amazon customer service
EAN: 6912838914135